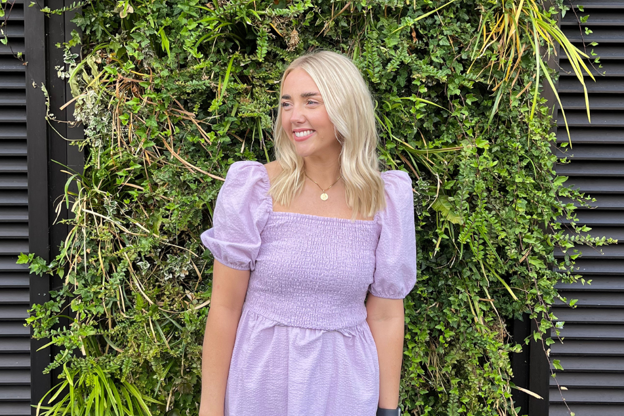 First things first- tell us a little about yourself!
After graduating from Loughborough university, my career was kick-started at an established construction & engineering recruitment business, heading up their marketing function. After 6 successful years, I took the next step of my career, working with an amazing marketing team for a global Mechanical & Electrical business.
My career with Bar2 began during the pandemic (brave move!) and I can honestly say, I haven't looked back since. I've been given the opportunity to have my voice heard; have been encouraged to continuously develop my skills and have been inspired to be innovative and brave with my decision making. As the Sales and Marketing Manager, I have always felt recognised and praised for my talents. I feel passionately about creating a team of strong-minded, confident, and empowered people and strive to create a culture where my team feel like opportunities are endless and sculpting a rewarding career is achievable!
How have you been making the most of working from home?
Whether it's to chuck the washing into the machine to save doing it over the weekend or to avoid the commute to spend time with my family; having the option to work from home gives me that extra bit of me-time in the week.
We've adopted a hybrid way of working and spend 2 days in the office and 3 days at home. Having the option to go to the office for collaboration time (and to catch up with my colleagues!) is really useful and a great way to spark creativity after being at home in the same four walls all weekend!
How has Bar2 helped you in your career development?
Bar2 really invests in a culture of continuous learning and because of that, I am given the opportunity to take as much time as I need to dedicate to developing and growing my skills. Using a combination of online learning platforms such as LinkedIn Learning and Viva Learning, plus consistent coaching from my peers and manager, I have been able to expand my knowledge further than in just communications and marketing.
I'm lucky to work within an incredibly talented and patient team who all invest a huge amount of time in collaborating on ideas and projects; taking the time to educate one another on multiple aspects of the business. Using the performance review platform, Leapsome, I have regular 1:1 sessions and peer and manager reviews to ensure that my development is on track – as well as getting the opportunity to identify areas for improvement and upskilling.
Thanks to a steady combination of training, exposure to high-level meetings and regular guidance from our MD, my position has recently been expanded across the sales function of the business. Having headed up solely the marketing team for the past 2 years, I now get to use my skills to streamline the sales funnel and ensure an amazing customer journey for all our customers.
What's your favourite thing about being our Sales and Marketing Manager?
My favourite thing about my role is the variety of people I get to work with. Whether it's our calm and friendly onboarding team, our creative and innovative marketing team or our passionate and driven sales team – the amazing people I work with inspire me to go above and beyond in challenging the status quo, bettering everything from our service to our customers to our internal processes.  
I'm extremely lucky that I get to be involved in super important strategy meetings with other leaders in the business. By having my voice heard at the top, I get a real sense of achievement and recognition in my role and by being privy to such discussions; get the opportunity to learn about operations much wider than the Sales and Marketing position.  
What does a typical day look like for you as Sales and Marketing Manager?
I joined the team in 2020 as our Marketing Manager and have recently expanded my responsibilities to take ownership of the Sales and Onboarding teams too. By streamlining all three teams, our goal is to offer a consistently amazing experience, regardless of whether you're one of our partners or one of our contractors. Working across three different functions of the business means I'm generally a very busy girl and every day tends to throw out new tasks and challenges for me.
Generally, you'll find me either running through future social media content or working on the marketing strategy with Tara, checking in with Emma and the rest of the onboarding team to check we've got hundreds of happy, registered contractors this week, or attending client discovery meetings with potential new partners with Arron!
And what are you most looking forward to for the next 12 months?
In the next 12months, I'm really looking forward to welcoming new members into the team, to build an even more diverse and talented troop!
Ideas from a whole variety of people is key for the development of our customer journey and understanding the opinions of different people, with different backgrounds, skills and motivators is essential in creating a well-rounded service for our customers. By creating teams of people who thrive across many different areas, we can rest easy knowing we're well equipped to tackle anything in a creative and considered manner!
What advice would you give to a younger you?
If I could give advice to my younger self, it would be to spend less time worrying about what people thought of me and more time asking questions and being confident in my skills! It's so easy to let other people's attitudes infiltrate into your own. If I could tell my younger self to think big and be brave in my choices – regardless of the reactions and comments of others - I think I'd have excelled and began genuinely enjoying work a lot sooner!
Where are we most likely to find you on a weekend?
At the weekend, you're most likely to find me with either a cappuccino in a cute coffee shop, having a BBQ with my family or taking our cavapoo Oscar out to see his doggie friends!
Tell us something people don't know about you!
I have an unbelievably sweet tooth and am known as the 'confectionary queen'. Chocolate cookies are the way to my heart.
Read more around our commitment to investing in our people here.