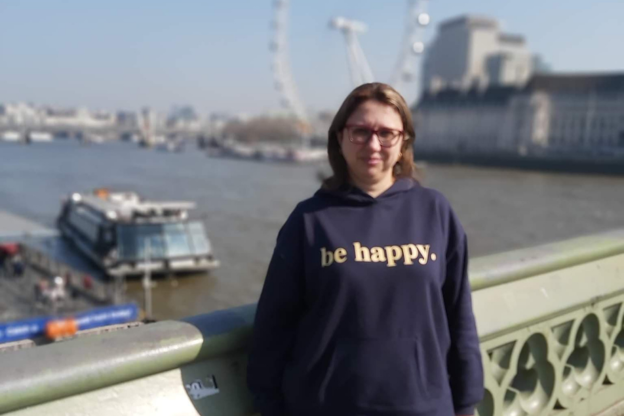 First things first – tell us a little about yourself!
Hi I'm Monica and I'm a Payroll Consultant here at Bar2.
After graduating from university in Romania, I jumped straight on a plane and made the move across to the UK to live and work in the beautiful city of London.
I kick started my career at Bar2 as a Customer Service Consultant however, shortly after realised that it just weren't for me!
Having always had a keen interest in maths, I decided to make the move across to the payroll department and have successfully been in my role ever since!
Outside of work, I enjoy heading to the gym with my friends and walking my little Beechon Roxy in the park!
How have you been making the most of working from home?
Working from home has meant that I have had more time to focus on myself. I've had the opportunity to work out more (especially since piling on a couple of pounds throughout lockdown!) and have recently been enjoying getting out for my lunch time walks again and making the most of the spring sunshine!
However, as an individual that thrives on the interaction of those around me, being thousands of miles away from my colleagues can definitely be challenging and testing at times.
Saying this, we're lucky enough to be provided with the most up to date technology here at Bar2, which makes it much easier for the team to connect with their colleagues, no matter where they may be!
Why Bar2?
I've been working at Bar2 for 8 years now and what I love most about the company has to be the close-knit, family feel to the business and supportive and inspiring management team.
Not only this, but I've been lucky enough to witness Bar2 constantly grow and evolve, both as a business and as a team. With regular legislative changes and the constant development of product offerings, it always makes Bar2 an exciting place to be and I can't wait to see what the future holds for our business!
What's your favourite thing about being our Payroll Consultant?
The thing I love most about being our Payroll Consultant is by far the numbers - I love that I'm always working with maths throughout my day-to-day tasks.
Another thing I love is having the constant ability to be able to learn, develop and be challenged within my role – even 8 years down the line!
Whether I'm carrying out reconciliations, verifying timesheets, or analysing spreadsheets of data - I love that I'm constantly learning something new every day!
And what are you most looking forward to for the next 12 months?
Within the next 12 months, I'm looking forward to being able to visit the UK a little more and jetting off on my holidays for the summer!
Where are we most likely to find you on the weekend?
On the weekend, you're most likely to find me in the garden cooking up a storm on the BBQ or heading out to the cinema to watch a classic rom-com!
Read more around our commitment to investing in our people here.