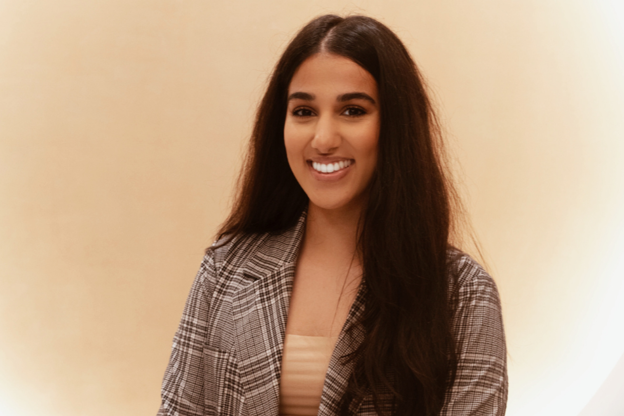 To begin with, tell us a little bit about yourself and what your role involves here at Bar2.
Hey! I'm Zeenie and I'm the Payroll Team Lead here at Bar2.
I've been on the team for 5 years now, and my role here involves playing a key part in overlooking the payroll team. On a day-to-day basis, you can find me invoicing clients, solving payroll related queries and processing the weekly payroll.
What do you love about working for Bar2?
The thing I love most about working for Bar2 is the business' commitment to the health and mental wellbeing of their employees. Bar2 truly value their staff members and will always go out of their way to support a member of the team, no matter the circumstances. Whether it's personal or something work related, they will always be there to provide support.
Not only this, but I love that the company constantly work to encourage and push each and every member of the team to excel. I love that there is always room for progression here at Bar2 and having been promoted from Accounts Assistant to Payroll Team lead within just one year of working for the company, this provides the perfect example!
What do you enjoy most about your role?
My favourite thing about being Payroll Team lead is the fact that I get to work alongside both new and existing clients on a daily basis and build long-lasting, meaningful relationships. I love that I get to meet new people every day and get a great satisfaction out of making our clients happy.
Not only this, I love that my role always keeps me on my toes! I am able to expand on my knowledge of payroll every day (even 5 years down the line!) and always find myself learning something new!
Finally, one thing I can't forget…my teammates! I love being a part of such a friendly and close-knit team which are always willing to go that extra mile to help each other out. This truly makes all the difference both to the working environment and most importantly customer journey!
So far what has been your biggest achievement from your time at Bar2?
My biggest achievement so far has to be my promotion from Accounts Assistant to Payroll Team Lead.
I am super grateful to have been promoted to this position and couldn't have done it without the support of the amazing team here at Bar2.
What has been your highlight of your time so far at Bar2?
My biggest highlight of my time so far at Bar2 has to be the moment that we were able to meet up with the team face-to-face post lockdown! As I'm sure many would agree, lockdown was extremely difficult in terms of being socially isolated for months upon end - so the moment we were able to finally see our colleagues is something I will never forget!
Alongside this, it's super amazing being able to attend our quarterly team events since the re-opening of the hospitality. They provide a great platform for both new and existing members of the team to build relationships and get to know one another on a deeper and more personal level outside of work!
If you were to describe your year at Bar2 in three words, what would they be?
Hardworking, rewarding and fulfilling!
Read more around our commitment to investing in our people here.