IR35 support
Here at Bar2, we are going above and beyond in ensuring that the UK's businesses have the correct support and advice required to guide them through the IR35 reform, fully compliant. Our free, 2-week IR35 managed service provides partners with the correct tools required to instrument these important legislative changes.
How does it work?  
After you receive a demo of our IR35 solution, reviewed your supply chain data with us and agreed terms, we can then get the IR35 assessment ball rolling!  Our project team will work with your project lead to collaboratively assess your current contracts, job roles and working conditions.
Once you're happy with the initial indicative determination statuses, we will then invite contractors to get involved and answer further questions on their assignment!
Our team keep an eye on timeframes and make sure that your project leads, and contractors are singing from the same hymn sheet - meaning assessments have been completely accurately, taking reasonable care all round (and even reassessment if required!).
Assessments completed and financial and compliance risks reviewed, we then agree with you the final sign off before contractors are emailed their client branded SDS.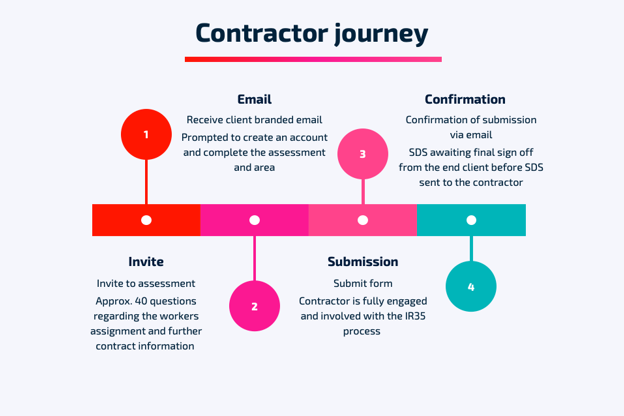 What next?
Our team take the time to thoroughly explain all relevant contractor engagement options (depending on individual status outcomes) and manage all contractor communications, disputes and questions regarding their engagement options
Once their SDS is issued, new engagement contracts are agreed and signed - your workers assignment is now IR35 compliant!
In a nutshell
Bar2 will provide you with a full 'status determination' for each contractor within minutes
If your contractor is deemed 'outside IR35' engaging via their PSC can continue whilst remaining compliant
If your contractor is deemed 'inside IR35' Bar2 will discuss with you and the contactor other engagement options such as PSC deemed employment or PAYE/Umbrella via Bar2
Our product offers comprehensive protection keeping you compliant, competitive and demonstrating proof of IR35 due diligence.
Find out more about our service and book your initial consultation with one of our experts here: